Here's how I used to clean my mobile phones if the screen was nasty: breathe on screen, rub on shirt in one direction. That was it. No spray, no super soft cloth made out of a space age material. I had one device, one screen, and one shirt. Easy.
Then Sedagive? got her own smartphone, and then I received a Kindle Keyboard eBook reader as a gift, then I bought one for Sedagive?, then I purchased an iPad2 for work, etc etc. The next thing I knew there were seven small screen devices, two laptops, and a pair of glasses in the house.
My shirt wasn't big enough to handle all of that.
It was time to start researching microfiber cloths.


The 3M microfiber cleaning cloth measures 7″ x 6.25″. It seems odd that the cloth isn't square. It's yellow, and soft to the touch as you would expect from a microfiber cloth.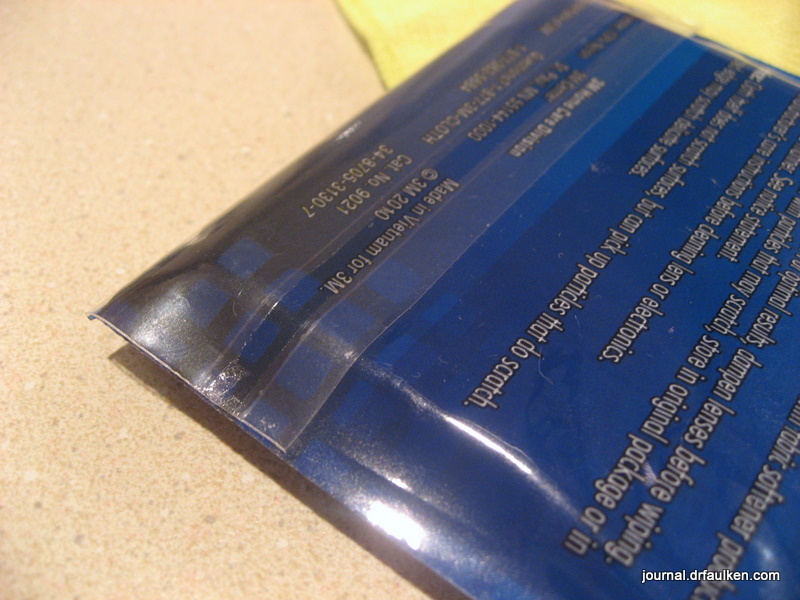 The ScotchBrite cloth comes in a resealable package. It reseals at the bottom — something I missed when I opened my first one by cutting the top open. Whoops. The adhesive is getting weak after about two weeks of use, so I am not confident that it will matter which end of the package you open up in the long run.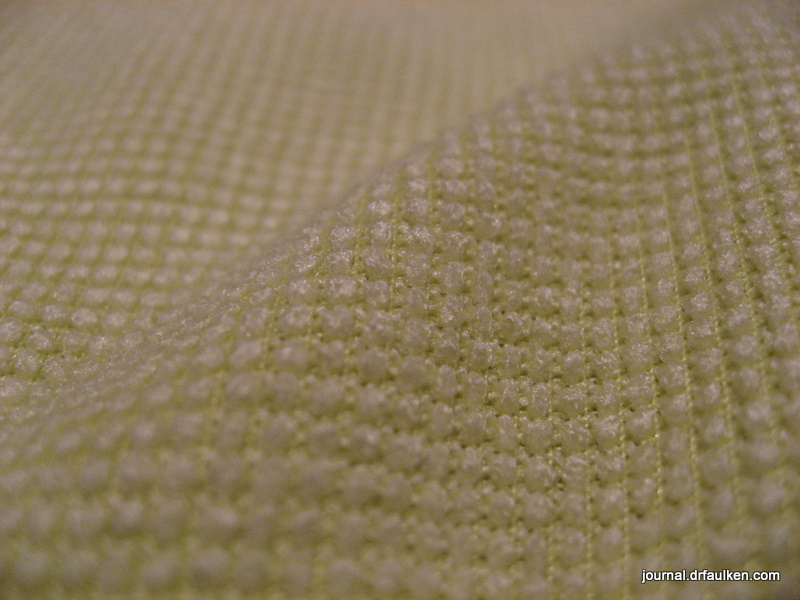 Microfiber cloths tend to come in three weaves: super fine, fine, and kinda fine. My friend Stilts has a super fine cloth that appears to be of really good quality. It came in a plastic case with a snap closure. I think Sedagive? has one around the house somewhere.
The super fine cloths are more expensive, and I needed several microfiber cloths for the various devices in the house. I have many "kinda fine" weave cloths for washing my car, and I figured those might be too coarse.
The "fine" weave from the cloths seem about right.
Conclusion, and a purchasing issue
I bought five of the 3M microfiber cloths for less than $9 delivered from Amazon Prime-eligible affiliate Deerso. I think this is an outstanding deal if you have many devices in the house that need regular cleaning. The cloths aren't totally pocketable, but fit just fine in my RooCase SuperBubble accessory pouch pockets.
I was unable to find the five-pack again on Amazon with Prime shipping. Something must have happened in the three weeks that I've owned the 3M cloths; maybe Amazon sold out, or perhaps Deerso decided to stop offering the five pack. When I got mine, they turned out to be $1.77 each.
You can buy a two-pack with Amazon Prime shipping for $4.71, which is about $2.35 each. You can find the five-pack with free standard shipping for $11.10, or $2.22 each.
I would still be happy with the cloths at the highest price of $2.35, but it sure is nice to get them for less money with faster delivery time.
Keep an eye on Amazon; if you're reading this review past December of 2011 who knows what kind of pricing and delivery options are available.
Overall, the 3M camera lens and touch screen microfiber cleaning cloths are strongly recommended.