I really like my Amazon Kindle 3rd generation eReader. It's helped re-ignite my joy for reading, and since receiving my Kindle as a gift last year I've torn through a bunch of books. I liked it so much I bought another 3rd generation one for Sedagive?.
My niece was about to give birth to her son, and I thought that she may need something to keep her occupied. She enjoyed watching the TV series Dexter, and I thought that she might like reading the books that gave the series its start.
On the other hand, I wasn't sure how much she'd like a Kindle, or if she'd even read books on it. I was reluctant to spend $140 on a 3rd gen model.
Luckily, Amazon released a new 4th generation Kindle shortly before my niece had her baby. Here are my first impressions on a Kindle that should make for an excellent gift this holiday season.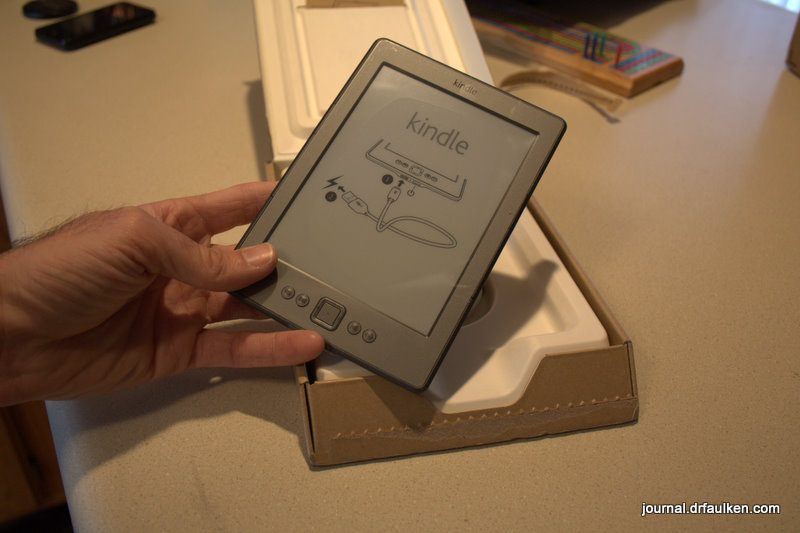 Hardware and form factor
The Kindle 6″ is a really cool piece of hardware. The screen size is the same as my 3rd gen (now called the Kindle Keyboard), but the device is smaller by about 18% according to Amazon. It's also 30% lighter and weighs about six ounces.
Amazon did away with the hardware / physical keyboard, and I think this was a smart move. I rarely use the keyboard on my Kindle Keyboard, and I feel like its presence clutters up the front of the device. The virtual keyboard on the Kindle 6″ is not super awesome, but people may use it so little that it doesn't matter.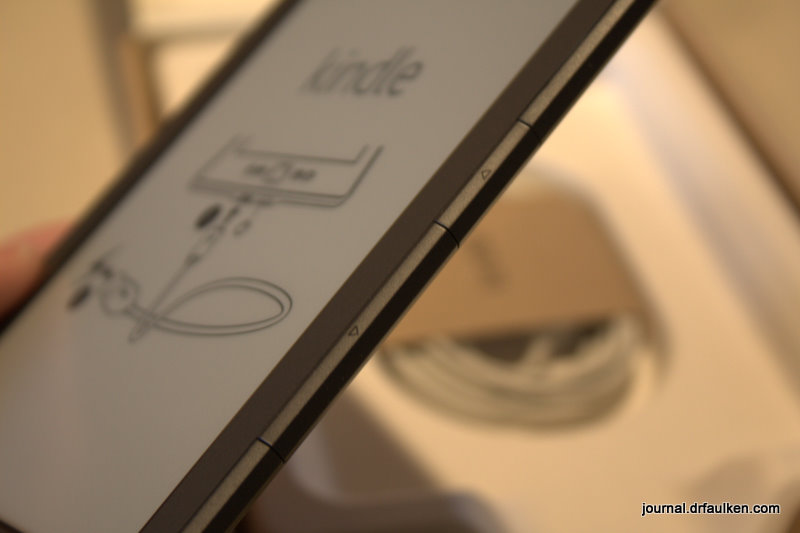 The Kindle 6″ is thin, about the thickness of a pencil. There are hardware buttons on each side to turn pages. I really miss these on my Kindle Fire and my hacked Barnes & Noble Nook Color, which I now use to do all of my eBook reading. Maybe it's because I am used to the hardware buttons on my Kindle Keyboard.
The 6″ Kindle's buttons are beveled and easier to depress than the ones on my Kindle Keyboard. Good stuff.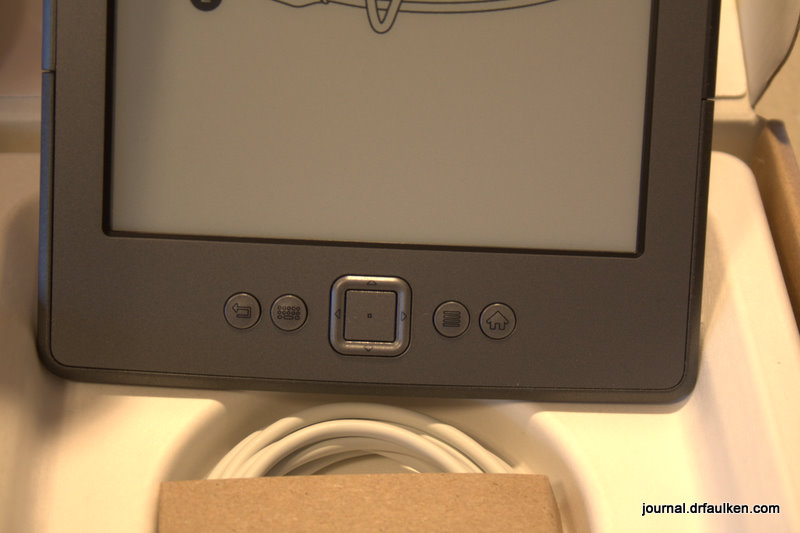 The buttons on the bottom are straightforward. From left to right: back, virtual keyboard, directional pad and select, menu, and home. I think that Amazon should have spaced the buttons out more. As a usability professional, I am concerned that the buttons are too close together for readers with dexterity issues.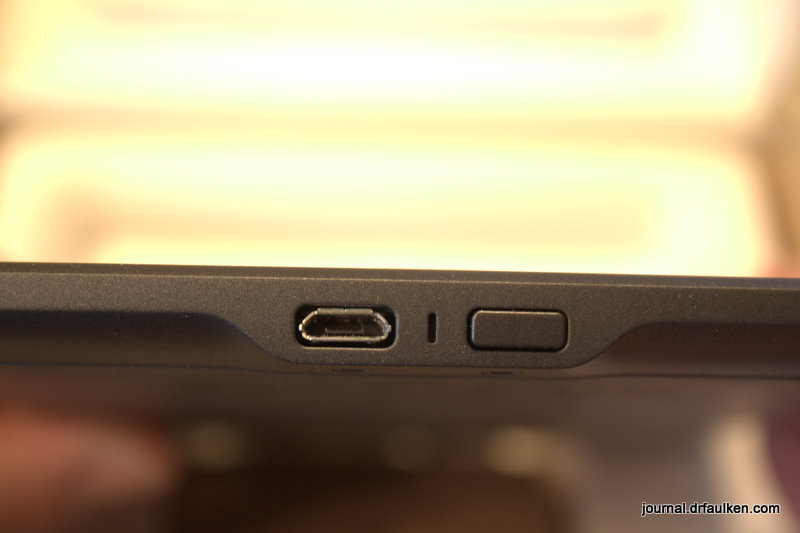 The bottom of the 6″ Kindle is austere, and helps to reinforce that this Kindle model is all about reading. There's a power button on the right, and the mini-USB power/data port on the left. Absent are the headphone jack and volume controls found on other Kindle devices. If you want text-to-speech, audiobooks, or music playback you're going to have to look elsewhere.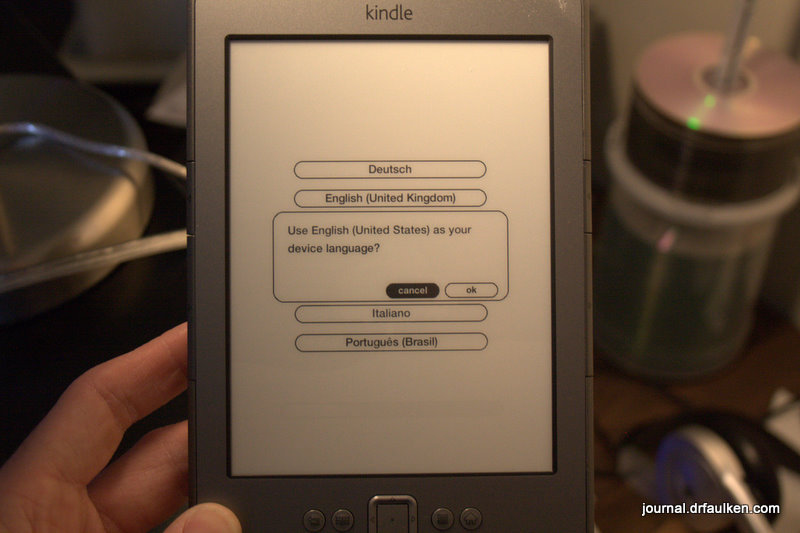 The screen is bad ass, which is what I've come to expect thanks to my experience with the older Kindle Keyboard. People new to the e-Ink style of display may find the background color and contrast to be a little "off" from the whiter paper commonly found in books and magazines. The matte finish may also be foreign to some. However, readers will quickly adjust, and the color/contrast combination really lends itself to extended periods of reading. I really like the screen.
The virtual keyboard
Most of the space savings on the Kindle 6″ comes from the removal of the hardware keyboard. I didn't use the keyboard on my Kindle very much, but I was still worried that going "virtual only" would be a major drawback on the Kindle 6″.
I used the keyboard on my older Kindle for three things: connecting to wireless access points, searching for books in the Kindle store, and creating folders for books that belong in a series. I've connected to two access points in eleven months, and used my Kindle to access the store three times. I did create a dozen or so folders for books over time, and I wonder if I would do so if I had to kludge along with the Kindle's virtual keyboard.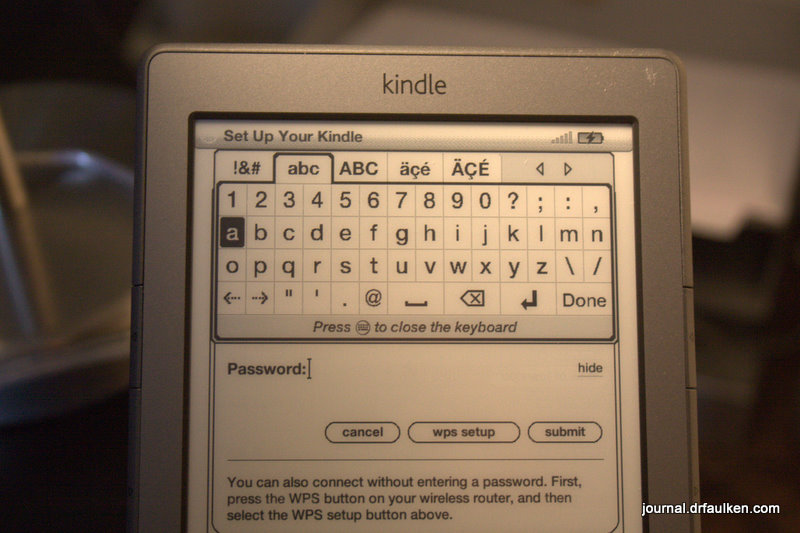 I'm going to be honest. It sucked to type in my wireless password using the directional pad. I felt like I was entering my name in a video game, old-school style. If you may be doing large amounts of text entry, the Kindle Touch may be a better choice for you.
Kindle with Special Offers
This was my first experience with Amazon's "Special Offers" program. The idea is that Amazon knocks about $20 off the price of a device in order to show you advertisements. Usually this isn't a big enough deal to make me blink, but that equates to about 20% off the price of a base level Kindle.
Special Offers appear in two ways. A smaller, banner-style ad is present on the bottom of every setting / menu screen.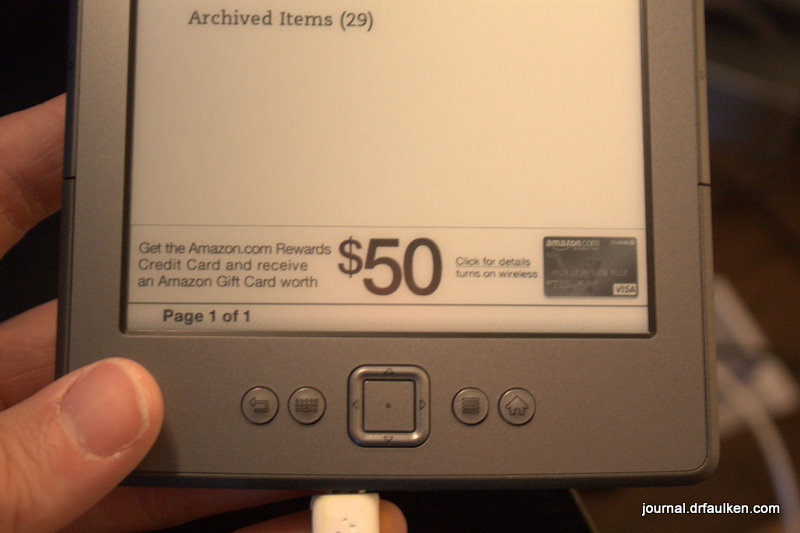 This is pretty innocuous, and I didn't mind seeing it.
Full-sized Special Offers appear on the screen when the Kindle is asleep: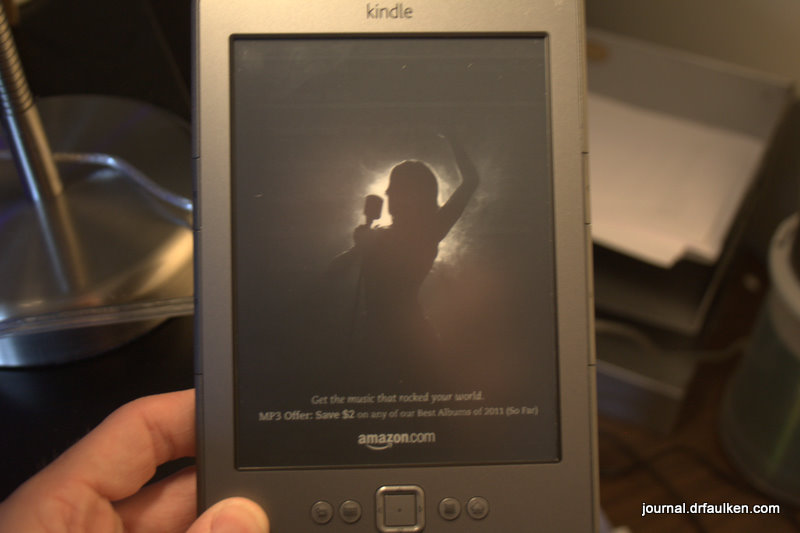 Again, this doesn't bother me. I haven't hacked my Kindle Keyboard, so I am beholden to the sleep screens Amazon loaded anyway. Who cares if it's an ad or not?
Conclusion
At less than $80 shipped from Amazon Prime, the Kindle 6″ may be a great gift to yourself or someone else. I felt that it was a lower-cost, lower-risk way to introduce my niece to eReaders, and I was pleased with what I got for my money.
The big question is if one should buy the Kindle or the Kindle Touch. The Kindle Touch with Special Offers is just $20 more, and you get audio capabilities and a better virtual keyboarding experience. Even if you're unsure if those capabilities are important to you, maybe it's worth another Jackson.
I think the 6″ Kindle for $79 is a watershed moment in the eReader market. I think the price is low enough to commoditize the Kindle and put it in a few more hands this holiday season.
Strongly recommended