Back in August of this year I wrote about how my skin was reacting to the Head and Shoulders shampoo. One of my readers Jenner suggested I try out the Thoroughly Clean Face Wash by Desert Essence. I figured I would give it a try. I ordered a bottle and then waited to use up the rest of my Head & Shoulders 2-in-1 shampoo.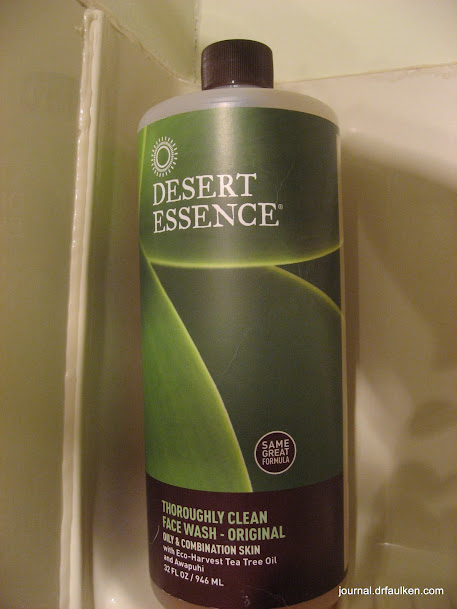 I bought the largest bottle I could find — 32 ounces at a little over $11 shipped via Amazon Prime. The whole reason I was on Head & Shoulders in the first place is that my Neutrogena shampoo was discontinued. I wanted to make sure that whatever I liked was on hand for a long time.
Scent and ingredients
The Thoroughly Clean Face Wash has an interesting smell. If you have spent any time with a bunch of activists, folks off the grid, or who participate in a co-op you'll know what I mean. The face wash / shampoo has a scent that seems halfway between patchouli and a clean spring day. It's very "natural" and reminds me a lot of the outdoors. I was afraid it would be too granola for me, especially since I have way more hair on my face than I do on the top of my head these days. I gave it a try for a few days and made sure it was okay for Sedagive? to smell it on my face.
The Thoroughly Clean ingredients list reads like a druid's backpack in a Dungeons and Dragons campaign. Tea tree, bitter orange, goldenseal, awapuhi and many others are all over the back of the label. There was also a lot of space spent on communicating that the product was made in an organic, sustainable manner and was not tested on any animals. The wash does not contain any chemicals or dyes. It was impressive, and I like reading the label as I clean my beard and scalp every morning. Visit Desert Essence's Thoroughly Clean product page and click the Ingredients tab.
Usage
I wash my beard and scalp every day. My skin is really dry and will flake — especially up here in Minnesota where the heaters are all on all the time and the wind sucks the moisture right out of my body. As a conscientious beard-wearer, it's important to me that it stays clean and smells good. Many guys (and a few gals, I reckon) fail to groom their beards appropriately. A friend of mine found a bit of food in his beard when he shaved for the spring.
So, it's every day use for me. This means that a really harsh product could damage my hair. The way I'm going, I need to protect every last strand of it.
I'm very happy to report that the Thoroughly Clean Face Wash is not only gentle on my hair, it leaves it remarkably soft. The Head & Shoulders shampoo was so harsh that I had to condition my beard every few days — further adding to the chemical load I was slavering on my beard. I haven't had to use it once since I started using the Desert Essence product this month, and we've had some really dry and windy conditions.
The Thoroughly Clean Face Wash lathers up pretty well. This may seem dumb, but that was a big deal to me. I spent some time out in Oregon and a lot of the all-natural cleaning products didn't foam up like their engineered equivalents. I'm conditioned that bubbles = clean, but from a practical standpoint it was helpful to see how much of the face wash I had in my hands so that I put enough on my beard.
I use very, very little product. Probably a quarter of a handful. That's not helpful for those of you who don't know me, but after a month of use I've used about 5% of the 32 ounce bottle. I expect the face wash to last a long time.
Conclusion
I definitely recommend the Thoroughly Clean Face Wash, especially to my bearded pals. The label suggests that it's for people with oily or "combination" skin (oily and normal?) but it is probably good for folks with semi-dry skin as well. Even though my skin flakes, I don't have clinically dry skin. Folks with clinical conditions may want to consult a medical professional to make sure it's okay for them to use. I can't see the product doing any harm, but hey, check with someone more qualified than me. 🙂
Sure, the Desert Essence product is more expensive than the mass produced Head & Shoulders shampoo it replaced. If you're really counting pennies, maybe start with the smaller size. You'll also get a pump, which is something I wished I thought about before buying the 32oz refill size. I have to carefully unscrew the cap and pour out a small amount. Guess a bottle pump review is in Gibberish's future. 🙂
Big thanks to Jenner for recommending this to me, it's a fantastic product.
Strongly recommended.