In theory, accessing the data stored on your Android device is easy. Plug one end of your USB cable into your computer, one into your phone or tablet, and boom — copy off your photos or whatever.
However, this hardly happens, especially if you have multiple devices in your house from multiple manufacturers. On my desk right now I have an HTC Incredible, a Samsung Galaxy Nexus, a Nexus 7 and a Nexus 10. Oh yeah, and a Nook around here somewhere, although that might be upstairs.
Anyway, the reason things become complicated is that different devices require different drivers. Furthermore, if you root your device you may need special drivers on top of those. Installing the Android Software Developer Kit goes a long way, but in my experience having even two different sets of drivers on a single computer can cause problems.
But let's pretend you get all that sorted out, and your drivers are 100% fine. The next major pain in the ass are the USB cables.
Not all USB cables are created equally. Some work only with specific devices. I have a Nook cable just for the Nook, using other USB cables is dodgy. The USB cable that came with the Nexus 10 doesn't work as a data cable when inserted into my USB hub, but will charge all of my devices. I have some USB cables that were either too out of spec or went bad and wouldn't even charge a device. I threw those in the trash, but I spent a lot of time trying to troubleshoot drivers only to switch cables or ports on my hub / computer and everything worked magically.
I knew there had to be a better way. I learned about WiFi Explorer, and I never looked back.

Overview
WiFi Explorer runs a little Web server on your mobile device. You use a Web browser on another device to view, copy, move, and delete files. Your device use an internal network address, which means it's not available to the outside Internet, just your own WiFi network at home / work. You can also set a password, but I don't.
WiFi Explorer runs from the moment you launch it until you hit the "back" softkey on your device. Tapping the "home" softkey allows it to run in the background.
Here's what the app interface looks like:

and here's what the Web browser interface looks like: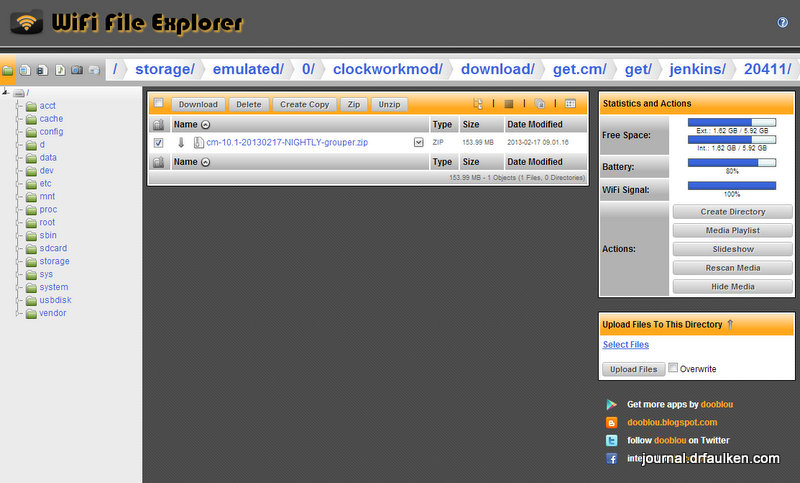 There are two versions of WiFi Explorer. The free version has limited functionality (one file at a time, no streaming media, etc) but it should be good enough for you to see if it does what you need. The Pro version is only $0.99 as of this writing and does a lot more.
Installation
Okay, this is complicated, so write this down:
Download the app.
Launch the app.
Done.
It was super easy, and I was up and browsing my smartphones and tablets in no time.
Usage
I use WiFi Explorer several times a week. I use it for writing these reviews, or pulling pictures off of my Galaxy Nexus. I also use it at work for when we're debugging beta builds of our next app. I push Cyanogenmod updates from my desktop to each device, since the internal CM and the Clockwork mod downloaders won't work from inside my network for some reason.
One feature found in the Pro version that I really love is batch download. You can select multiple files (via checkboxes) and then download them all via a ZIP file. This is great for photos or images. Some people back their device up using WiFi Pro, but I use a different app for that.
Uploading files isn't as intuitive as it could be, but it works well enough. I am really used to the HTML5 drag and drop upload interface found on Gmail, WordPress, and other Web-based applications. WiFi Explorer Pro uses the tried-and-true file browser method. You have to click the "Select Files" link, root around in your hard drive, click "open," and then "upload files." Not a big deal, but it's my biggest day-to-day dissatisfaction with the app.
There are other things I don't use, such as streaming media from the host device. WiFi Explorer also has an app installer for APK files you may find from other places than Google Play or the Amazon App Store. I install our beta builds from work another way, so I don't use this function at all. You can also sort files by type (video, picture, etc) but I generally know exactly what I am looking for and where to find it.
Summary
WiFi Explorer is great. This is the kind of functionality that should be in Android by default. For $1 I think it's an absolute steal. Not only are you free from having to keep the right USB cable on hand, you also don't have to worry about drivers and a bunch of other shit.
The only thing I regret is that I didn't buy this app sooner.
Strongly recommended