Sedagive? likes tracking her physical activity and food intake. She's tried several methods for doing this, including paper, spreadsheets, numerous Web sites, and Android apps.
A lot of people at my current employer are very active. One of my co-workers had a sleek black band on his wrist. "Hey dude, what's that?" I asked.
"It's an Up band," he replied. "It tracks my movement and sleep, and I can record my workouts and diet with it."
I bought one for Sedagive?'s birthday in April, and then one for myself a week after. Here's my review, three months later.


Features
The Up is made by Jawbone, the same people who make a ton of Bluetooth headsets, speakers and accessories. This will be important later.
The Up band is 0.46″ wide at its widest point. It is covered in rubberized plastic. There is a silver-colored push button at one end, and a plastic cap at the other that protects the 3.5mm male headphone jack.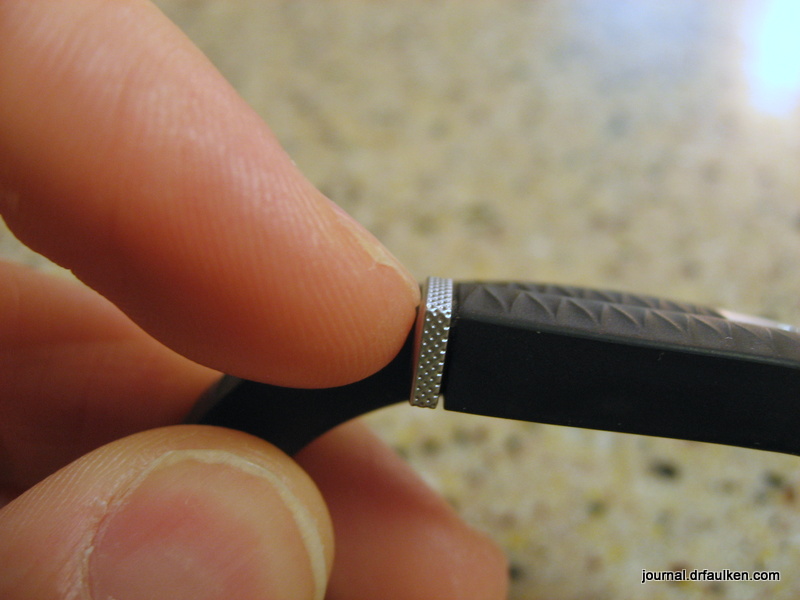 This button allows you to toggle between the Up band's various modes.
The Up can track your movement. Depending on how you program it, the Up can notify you if you've been inactive for a period of time.
There's also a sleep mode. I'm not entirely sure how it works, but I think it makes the Up extra sensitive to detect your movement. Anyway, the Up can make assumptions about the "depth" of your sleep (light vs deep) and you can see your sleep trends over time.
You can also manually enter your workouts and food intake. The Up's software also integrates with popular wellness apps like RunKeeper or MyFitnessPal.
The Up is water resistant, which means you could wear it while showering or running in the rain. It is not waterproof, so leave it off if you go swimming. The rubberized coating is pretty sweat and oil resistant so far.
Wearing the Jawbone Up
The Up is very easy to wear. Some of my co-workers wear various versions of the FitBit, a competing product. The FitBit has more capabilities than the Up, but it is more like a clip-on pedometer and less like a sleek bracelet. There's a cuff accessory for the FitBit, but it's ungainly. I'm not a huge fashion dork, but the FitBit cuff looks like you're wearing a piece of exercise equipment. The Up is very innocuous and high-tech looking in comparison.
You will more consistently track your movements because the Up is easy to wear. I wear the Up almost 24 hours a day. The only time I take it off is in the shower, because I want to clean my arm without worrying about the Up getting in the way.
I usually forget about wearing the Up except for two times: when putting on / taking off long sleeved clothes, or when I am snuggling Sedagive? at night. The rubberized plastic grabs in these cases, and I've almost ripped the Up off of my wrist a few times. I'm also worried about the Up tangling in Sedagive?'s hair during more … intimate … moments, so just be careful of that when your body goes from Normal mode to Friskypants mode.
Syncing the Jawbone Up
You are supposed to sync the Up twice a day. Jawbone recommends doing it when you wake up and before you go to sleep. This leads to my first gripe about the Up: plugging it in to sync.
The Jawbone Up requires a smartphone. You uncap one end of the Up, plug it into the headphone jack of your phone, and run the Up app. The sync process is very irregular. Sometimes the app detects the band automatically and begins to sync without interaction. Sometimes you have to tap the "sync" button in the app. Sometimes the app reads the Up band quickly, sometimes it takes over a minute. There does not seem to be a correlation between the sync process and my activity or time since last sync.
I think sometimes the software just sucks.
This may not seem like a big deal, but when you're trying to integrate a device into your life you want as minimal intrusions as possible. Removing the device twice a day and waiting for it to figure out the sync process is disruptive. Sometimes I forgo a sync in the morning because I don't want to wait.
The other drawback to how the Up syncs is that you must be online in order to sync. The Up sends your data to Jawbone's servers. If you're not online you can't sync. There is no local storage on the app. This is a massive product oversight. I've done a lot of work on software that requires communications with servers, and we've always built an offline mode in case the network was down. This was an easy, no-brainer kind of feature that Jawbone failed to implement. I hope it's fixed in a future release.
Speaking of Jawbone, aren't they the company that makes a bunch of Bluetooth shit? Why do I have to plug the band into my phone at all? That's stupid. I have Bluetooth enabled on my phone, so why can't the wrist band communicate with my phone on a regular basis and sync throughout the day?
We met a fellow last week with an Up on. His headphone jack cap got lost, and now he has a half-inch plug sticking out on the end of his wrist band.

You have to plug this 3.5mm male headphone jack into your smartphone to sync and program the Up band.
I am sure having a Bluetooth chip in the wristband would decrease battery life, but I'd rather lose a day or two in exchange for wireless sync.
Charging the Jawbone Up and Battery Life
One of my favorite things about the Up. The wrist band will last about 10 days on a full charge. See what I mean about giving up a few days for Bluetooth? I'd give up half of the battery life for Bluetooth sync. Five days on a single charge is still way better than any other mobile device I own. I'm already used to charging my Android phone and tablets and my work laptop throughout the day, so I'm not concerned about plugging in my Up every few days or so.
The charging mechanism is another huge design miss. The Jawbone Up band is charged through your computer's USB port. Except the connector isn't standard; the Up comes with an adapter that has a male USB connector on one end and a 3.5 mm female connector on the other. My dog Pearl chewed up Sedagive?'s connector, so now we have to share.
Why have this weird-ass connector at all? If Jawbone went with wireless sync, one end of the Up could have had a micro USB connector. This type of plug is standard, especially in the Android world. I charge every single Android device we use in the house with a micro USB cable.
Logging Workouts in the Jawbone Up
Unless you import workouts from other apps into the Up app, you have to enter every exercise session manually. The interface for doing this is okay.
Exercises are broken down into several common types, such as "weights," "cross training," "yoga," etc. You then make a guess about your workout intensity, and then enter the duration of your activity. The Up makes assumptions about the efficacy of your workout based on your input and also based on the information you entered about yourself during setup (age, sex, height and weight). The calculations are all very basic and suspect. I don't really pay attention to the amount of calories burned during a workout because I know these types of estimates are usually very optimistic.
Entering Food Items Into the Jawbone Up
The Up's native interface for entering food is not great. The interface is not very easy to use or intuitive. The item database is very small, and the search function is weak. A nifty feature is being able to take a picture of your meal if you're in a hurry, but of course this doesn't tell you what you've ingested. There's also a way to scan a package of something you've eaten, but you can't divide portions up this way.
You are far better off pairing a compatible app with Up than using the in-app experience.
General User Interface
I work on mobile apps for a living. My job is to make Android and iPhone apps easier for people to use. The Up app is really difficult to use. I only have experience with the Android app, so perhaps the iOS version is better. However, if the same team who did the Android version did the iOS one I am not hopeful.
When basic user experience patterns are bad you know the rest of the app is going to be difficult to use. For example, the concept of CRUD (Create, Read/Retrieve, Update, Delete) is probably sixty to seventy years old by now. You create a workout, you look at the workout, you edit the workout, you remove a workout. Seems simple, right? The Up app gets it wrong.
Creating a workout is fairly easy; there's a big + at the top of the app's timeline view.
Viewing this workout is also easy. You can see the workout in your activity stream, and you can also see the workout in your daily summary.
However, editing or deleting a workout (or sleep session, or food item) is a real pain in the ass. You can see and add things from your Home screen. You can tap on individual entries on your Home screen. But you can't edit or delete entries there. You have to go to your "Lifeline" screen and then tap on an entry's icon, and then tap again on the activity's thumbnail.
There is plenty of room in the interface for edit and delete controls. I have no idea why the Up app doesn't allow you to do basic functions as easily as possible, but I'll tell you this: if you can't get the basics right, the more complicated functions are going to be a nightmare.
I strongly suggest you use other apps to track your workouts and your food intake, and then pair them with the Up. Don't even bother using the app if you can help it.
Overall Impressions
I wish the Jawbone Up would track more things. I'd like heart rate the most. I know this is hard to do, but almost everyone I talk to asks, "does it track your heart rate?"
The FitBit is rumored to have a bunch of inactive sensors on it that could track things like skin temperature. This would be neat, and while skin temp isn't something I am interested in tracking actively, it might be extremely helpful as something that is passively monitored and then used as a metric for alarm.
For example, I do firearms training several times a year during the height of the summer. It gets pretty hot and humid out here, and every year we have a student or two take a time out because of heat exhaustion. A skin temperature monitor could help sense an increase in body temperature and send alerts to either cool off or drink water.
My Up band has a defect of some kind, where it will signal me to start moving while I'm walking. I turned the inactivity alarm off, which makes me unhappy. I sit down for most of my workday, and I found the alert useful.
I know that personal biometrics are an emerging industry, but given the Up's limited capabilities and the overall drawbacks of the design I'd say the Up costs twice what it should. I'd forgive the bad user interface and occasional flubs if it were about $60 – $70 instead of the $130 MSRP. None of the competitors in this field – the FitBit and the Nike+ Fuel band in particular – get everything right, but if you're an Android user and want the most innocuous device possible the Up is your best choice.
It's not a good choice, but it's your best one.
My advice: Jawbone bought the company that makes the FitBit earlier this year (2013). I'd wait until Jawbone's next generation product comes out. Hopefully it will address some of the Up's weaknesses, expand upon its strengths, have more sensors / track more data, and cost about the same amount.
I still can't believe this thing doesn't sync over Bluetooth.
Not recommended, unless you want to acclimate yourself to personal biometrics and are trying to decide between the Up, the FitBit, and the Nike+ Fuel. In that case, recommended. Barely.