With two adults and two kids in the house and as many as a dozen gamers per Sunday, we go through a pretty decent amount of liquid hand soap. I acquired a fondness for Mrs. Meyer's Lemon Verbena liquid hand soap. I originally purchased it from Target, but as time went on I purchased bags of refills from Amazon.com. I felt better about using less waste (I already had enough pump bottles to last me a long time) and I liked the cost savings of buying in bulk.
I did this for almost four years, buying six 33 ounce bags of refills from 2009 until this May. For some reason, prices jumped from about $41 delivered for six refill pouches to almost $90. Prices seem to have come down to about $66, but that is still a really big jump.
Begrudgingly I purchased two six pack cases of 12.5 ounce bottles, which turned out to be more than I was used to paying but still less per ounce than buying the refills, even at the current $11/bag price.
We were running low on hand soap again, and I started searching for another way. I was afraid we'd have to switch to another brand, and I really liked the scent of the Lemon Verbena.
Then I found a tutorial from 2011 on making liquid soap out of a bar of hand soap. I was willing to try. If I succeeded, we'd have a cost-effective way to make our own liquid soap refills. If I failed, it would be an interesting Gibberish post.
This is my experience.

Step 1: grate the bar of soap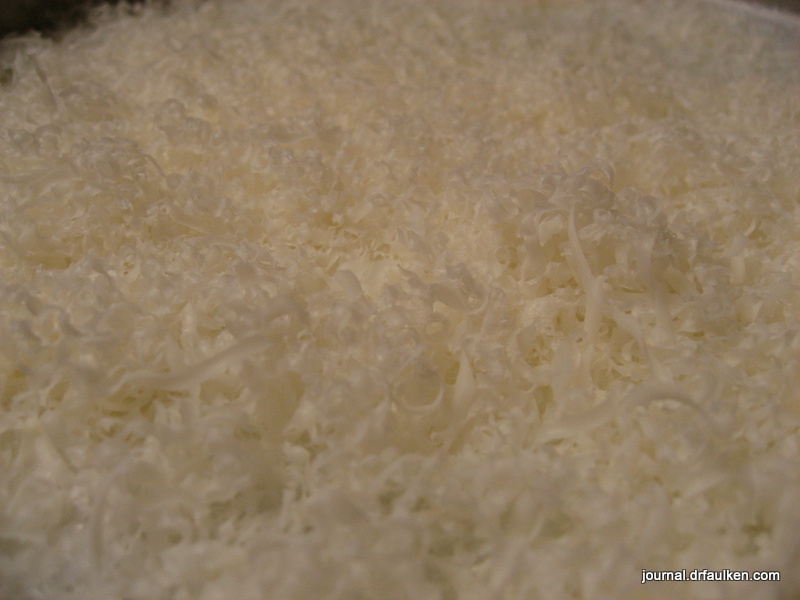 I purchased a single bar of Mrs. Meyer's Lemon Verbana soap from Amazon for $8.76 after shipping. We were unable to find the bar locally. I grated the 8 ounce bar of soap using an OXO Good Grips Zester Grater. This took about ten minutes, but I had a seven year old for company so we talked about ninjas and tornadoes and bad guys and stuff. Time flew by.
Step 2: heat up a shitload of water
I used a gallon of filtered water from our badass iSpring 6-stage reverse osmosis water filter. I added two tablespoons of liquid glycerin (which we had from our pre-shave face oil we've been making for almost a year).
I turned our stove top to medium high heat and waited for some steam to come off the surface.
Step 3: add the bar soap shavings
Keep the heat going. Stir in the shavings and keep doing so until the soap melts into the water. The directions from the Farmer's Nest said to remove the solution from heat immediately, but I had problems melting the soap shavings so I kept it on a little longer.
Step 4: Remove from heat and cool for 12+ hours
After I thought the shavings were melted (I was wrong), I removed the soap from heat.
I was 100% convinced I did something wrong — even after several hours of cooling the mixture looked like bubbly, cloudy water.
"What are you making?" one of our burger night guests asked.
"Soapy water," I sighed.
We went to bed, and I was ready to order another $9 bar of soap.
Step 5: The magic of patience
I woke up and to my surprise o_O the mixture had congealed. Probably too much! I had to rush off to work, so Sedagive? transferred the liquid soap to five quart-sized Mason jars. She reported that there were still chunks of undissolved soap and that the soap had the consistency of snot.
She was completely right.
Step 6: Hope for the best
Our first retail-made liquid hand soap ran dry tonight, so I put half a quart into the plastic bottle.
I used a funnel because of the consistency, and this was definitely the right thing to do. The retail refill bags have a perfectly-sized plastic spout that is very easy to use.
I found that the soap thinned out as I mixed it with a metal fork. If anyone knows why please let me know.
In the end, I used half a jar to refill the 12.5 ounce plastic pump bottle.
The soap pumps out just fine, and it appears to be more concentrated than the retail version. I typically wet my hands, then use hand soap, then scrub, then rinse. I found I got a very good lather from our home made batch by wetting my hands, then applying soap, then wetting again before scrubbing.
Cost analysis and lessons learned
The material cost for making 160 ounces of soap was less than $9, or less than 6 cents per ounce. Buying the equivalent amount of factory-made refill soap would cost 30 cents per ounce.
Sedagive? likes the basil scented soap, so we're going to make another batch in the near future. When we do it again, we'll do the following:
Add a little bit more water to make the soap thinner
Use a mixer to mash up any undissolved bits. This might also help with the viscosity. I am not sure if we'll use our stand mixer or try a hand mixer.
Perhaps store the soap in a larger, single container. While the quart jars are handy, they drive up the per-unit cost if you don't have jars around already.
Overall, the experience was interesting and the final product was worth it.
Let me know if you have questions or run into problems — apparently other bars of soap have different ingredients that might make your home made batch different from ours.
Also, make sure you shop the sellers on Amazon. Some of them charge a lot for a bar of soap.
Strongly recommended