Sedagive? and I both have Samsung Galaxy Nexus Android phones. Despite a problem with her first phone, Sedagive? and I have liked them. The hardware is really nice, and the LTE 4G network speeds are very fast. While there are some things I really dislike about the Android 4.0 (Ice Cream Sandwich) operating system, the overall user experience is improved over my already nice HTC Droid Incredible.
Some people were complaining about the short battery life on their Nexus. I decided to do some data collection and see if there was any truth to the matter.
I've decided that the battery life on the Galaxy Nexus is really good for an Android smartphone, and is quite capable of carrying you through a typical period between charging. However, it also depends on how you use your phone, and what your expectations are for a smartphone.

My data collection methods
I used my phone normally until I got a low battery warning. The warning went off at 15%. Depending on what I was doing and how important it was that my phone stayed alive, I either let the phone keep running off of the battery, or I plugged it in. My percentage left estimate ranged from 9% to 15%, with the average being 13.3% battery life remaining.
I took a screenshot right before I recharged my phone.
I started collecting data on December 16th, and only took screenshots when the battery dropped below 15% — mostly. I forgot one time and I screwed one up another time by adjusting the volume as I took the screen shot. You only get fifteen data points. Over a 25 day period, I dropped below 15% 17 times.
I am using the stock Galaxy Nexus battery.
My usage patterns
I believe how you use your Galaxy Nexus will highly influence your battery life. I mostly use my phone for sending text messages, browsing the Web via the browser, using Facebook, streaming music from Pandora, Spotify, or Amazon, and taking pictures. I made some longer phone calls a few days, and those were the days that battery life was the shortest.
If you use your phone to watch video or if you make a ton of phone calls, then my data may not be helpful to you.
Since purchasing my first smartphone in 2007 — an HTC Touch — I realized that if I treated my phone like a laptop then I wouldn't be so bent out of shape about the battery life. I didn't expect my laptop (especially back then) to run for 10+ hours on a single charge. If I considered my smartphone like a feature phone I'd be disappointed. My Samsung Alias phone could run for days on a single charge. But I also wasn't using it to cruise the Web, email, or Facebook. Did I even have The Faecbuuk back then?
The data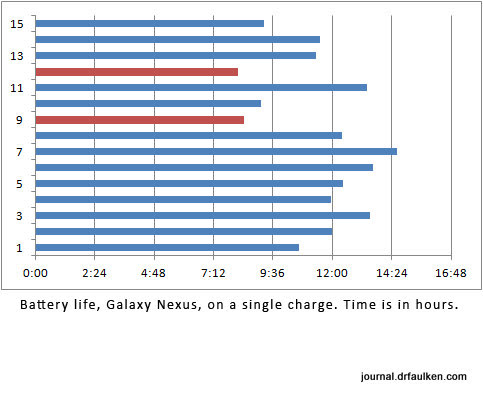 Fifteen data points over almost a month of owning the Galaxy Nexus
Average battery life was about eleven and a half hours. That is much better than my HTC Droid Incredible, which was tottering on about five hours a charge with an extended battery.
The biggest use of battery life was the screen. That made a lot of sense to me, as the screen on the Galaxy Nexus is quite large. One thing that did surprise me, however, was how little the LTE network effected battery life. I stay on 4G from 8:30AM until about 5:30PM, and that's when my heavy usage happens. Some of my friends — mostly those stuck with 3G iOS devices — chided me about how much the 4G network would kill my battery. It never really made a difference.
I've read reports on the Internet about people shutting the 4G antenna off on their phones to conserve battery life. I think this has to do less with 4G and more about areas with inconsistent LTE coverage. I would imagine that the phone uses a lot of power negotiating from LTE to 3G to possibly the fallback "1x" network. Luckily my 4G coverage is quite consistent and good here in Minnesota, so perhaps that accounts for the decent battery life.
You can see the screenshots of my data in my Google+ photostream about this post. One of the screenshots displays the battery as "40% Discharging;" I took this screenshot about a half hour after charging the phone in my car while driving.
Conclusion
In my environment and for my usage patterns, the battery life of the Galaxy Nexus is better than I expected. It's an improvement over my prior smartphones, the HTC Touch and HTC Droid Incredible. I am not away from a charger for more than ten hours at a time, so the average battery life of eleven and a half hours is fine by me.
If you travel on foot a lot and don't work near electricity this may be an issue for you — but then again you probably won't get much value out of any smartphone in such a remote location.
I know a few of my readers have Galaxy Nexus phones, if you'd like to do a similar "screenshot challenge" please post your results.