I've written about my standing desk at my old job and at home a few times before, so you may want to do a little catch-up reading if you're new to the idea of standing at work instead of sitting.
I really like my latest consulting job. I am working on mobile Web sites and applications, and the team is trying out agile development methodology for the first time. It's always fun to watch people come to the realization at just how good agile can be for smaller teams and projects. The people that work there are super friendly, too.
And one of the coolest things of all? I'm not the only person standing to work.
This is quite a departure from my last job, where I may have been the only one in the building standing up. I got a lot of crap for standing up, particularly from people who weren't in the best of shape. Some folks had legitimate questions, but I definitely felt like a black sheep.
One of my team members ordered a standing desk, and five other people on my floor have either adjustable desks or are full-time standers. It makes me smile to walk down an unfamiliar hallway on another floor and see a head or two above the cube walls. My workplace provides three different styles of standing desks for full-time employees, and almost every desk can be raised to become a permanent standing environment.
Mine is the latter, and while it isn't as fancypants as my desk at home it does the job just fine.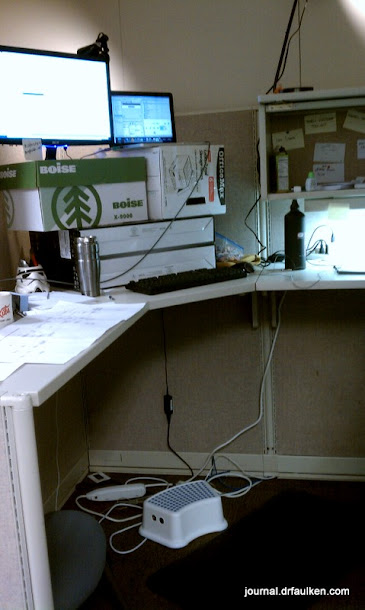 As you can see, the entire working surface is elevated. This is a big advantage over the convertible desks that my workplace provides to full-time employees. The convertible desks only have enough space for a mouse, keyboard, and sometimes a little accessory tray. This means that reaching for any number of things is at a different level. I utilize my entire desk surface – from coffee, to the process flow diagram on the left, or my rooted Nook Color tablet on the right. It's important to me that the entire surface area is level and accessible.
I bought another kid's step stool from IKEA for $3. It's probably the second least expensive thing you can do to help yourself stand all day.
The least expensive thing, of course, are those horrible boxes that support my monitor and laptop.
I wanted to run another Tyke Supply adjustable monitor stand, but there's no way to clamp it on my desk, and the monitor at work doesn't have VESA mounting holes. Bummer. The boxes will have to do.
It's hard to see in this picture, but the standing mat I bought for work is far superior to the Crown Comfort King mat I reviewed back in July. Look forward to my review later this month.
I was very happy to get out of a chair (I had to sit in a temporary cube for about two weeks), but I am even happier that standing at work is more widespread than any other place I've ever been. I guess that's part and parcel for working at a company involved in health care, but it's still awesome. The best part yet — Sedagive? is a standing desk pioneer at her own workplace, and hopefully others will follow suit.
Anyone else convert to standing?