Big thanks to Rangerette for passing along this What pre-1985 Video Game Character Are You? quiz.
Turns out I am the ship from Defender, which I spent a fair amount of quarters on with my Dad at Aladdin's Lamp arcade. 🙂 The summary is quite accurate, right down to the clumsiness. What I make up for in agility I make up for in snatching stuff in mid-air before it hits the ground.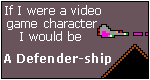 I am a Defender-ship.

I am fiercely protective of my friends and loved ones, and unforgiving of any who would hurt them. Speed and foresight are my strengths, at the cost of a little clumsiness. I'm most comfortable with a few friends, but sometimes particularly enjoy spending time in larger groups. What Video Game Character Are You?