I have a love hate relationship with pre-made first aid kits. Normally they consist of a ton of differently-sized Band-AIDs (or generics), a gauze bandage, and a gauze compress. Oh yeah, modern kits tend to have a set of latex gloves, or nitrile if you pay a premium. They are more "boo-boo" kits than first aid kits.
On the other hand, at least people have these kits around. These kits are usually around $10 – $20, which is close enough to impulse buy pricing for most households. The load out might be better than nothing, especially since most injuries we encounter are the scrapes and minor cuts these "boo-boo" kits are built to handle. Most of the kits come in a plastic or nylon carrying case and are easily transportable.
Personal Trauma Kits (PTK) are at the other end of the spectrum. PTKs are used when a major incident occurs and when professional help is too far away or unlike to arrive in time. In my training circles, they are used in response to automobile accidents and gunshot wounds. I felt that this was overkill until a few years ago. I've passed by several bad accidents before first responders arrived. I had neither the tools nor the training to help, but it got me thinking that catastrophe takes many forms. A friend of mine had a tree fall through her house during the last hurricane — what if it had hit her or her daughters? Emergency services were overwhelmed during the storm.
The downside to PTKs is that they require a lot more knowledge to put together. I spent a lot of time researching them via my training groups, and spoke with some medical professionals before starting mine. The components are a lot more expensive than what you'd find in a first aid kit from Wal-Mart. Just like any preparedness plan, building a proper trauma kit takes money and time. Don't try to build it all at once, but decide what parts you are most likely to use first and go from there.
Lastly, PTKs are usually built (and carried) by law enforcement, emergency medical services, members of our armed services, and armed civilians. Of course, any of the first three groups can make up the latter, but the point I'm driving at is that most PTKs are held in "tactical" ballistic nylon cases or carried in military-style bags. This is fine when your job or situation demands tactical equipment but it looks out of place and draws unwanted attention out in public.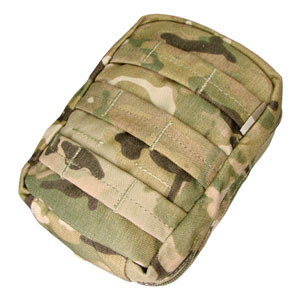 This MOLLE-capable medical pouch by Condor is frequently found on tactical vests, bags, and backpacks. It looks very out of place at a shopping mall.
A medical kit is like any other preparedness item. It doesn't do you any good if you don't have it when you need it. I wanted something that could blend in, was affordable, and was a good starting point for a personal trauma kit.
Case construction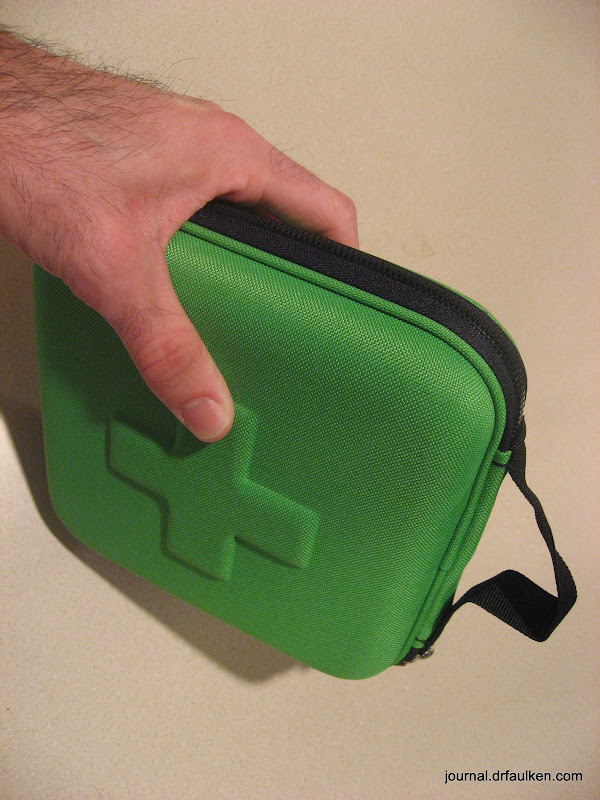 The first aid kit from IKEA is a pretty decent way to get going. It's sold in the IKEA Family department, and runs $11.99 or $9.99 if you are an IKEA Family member. The kit is about the size of a zippered CD case, is bright green, and is pretty family-friendly looking. I was concerned that the case wasn't big enough to hold the "stock" contents plus the items from my own kit, but the case is small enough to put in a car, diaper bag, messenger bag, etc. It's portable, and that's an important trait. You have to have it to use it.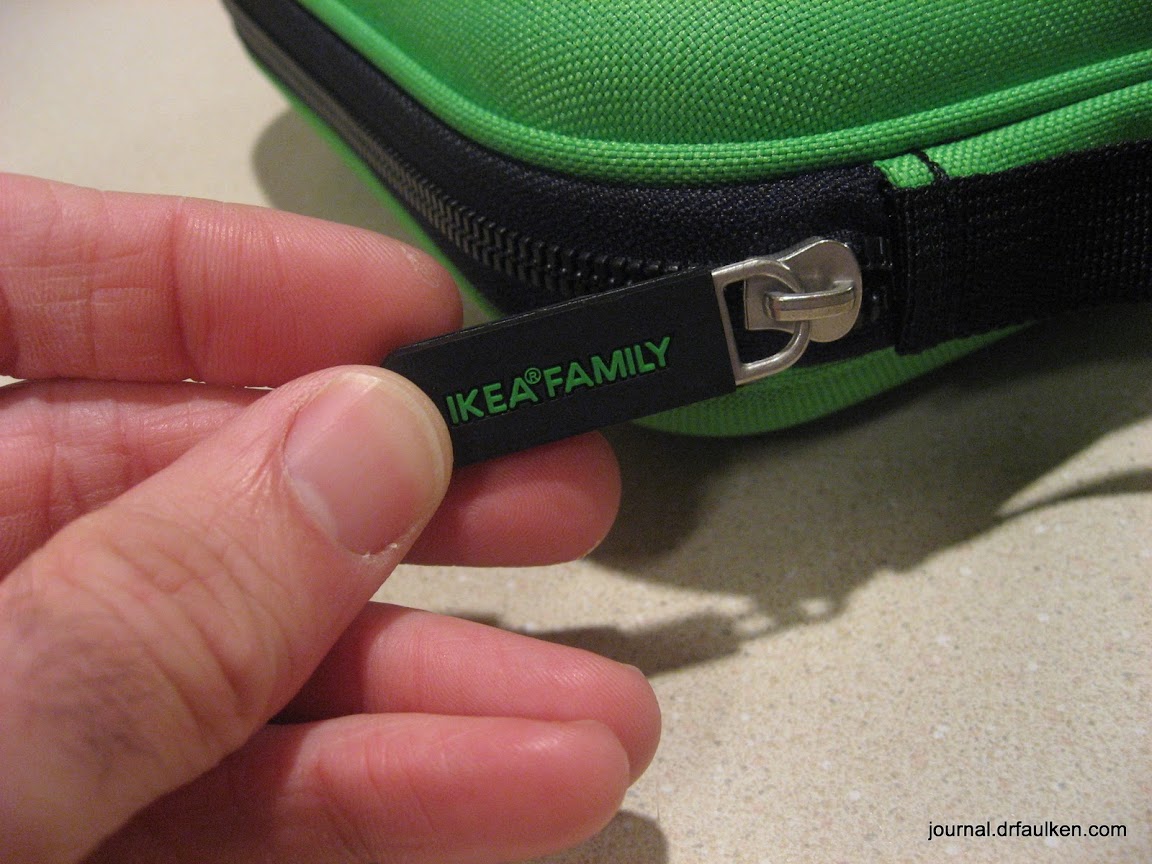 The case is sturdy. It has a nice, smooth zipper and a rubberized zipper pull. I am normally a geek about pulls, but in this case the non-slip pull may come in handy if your hands are slippery.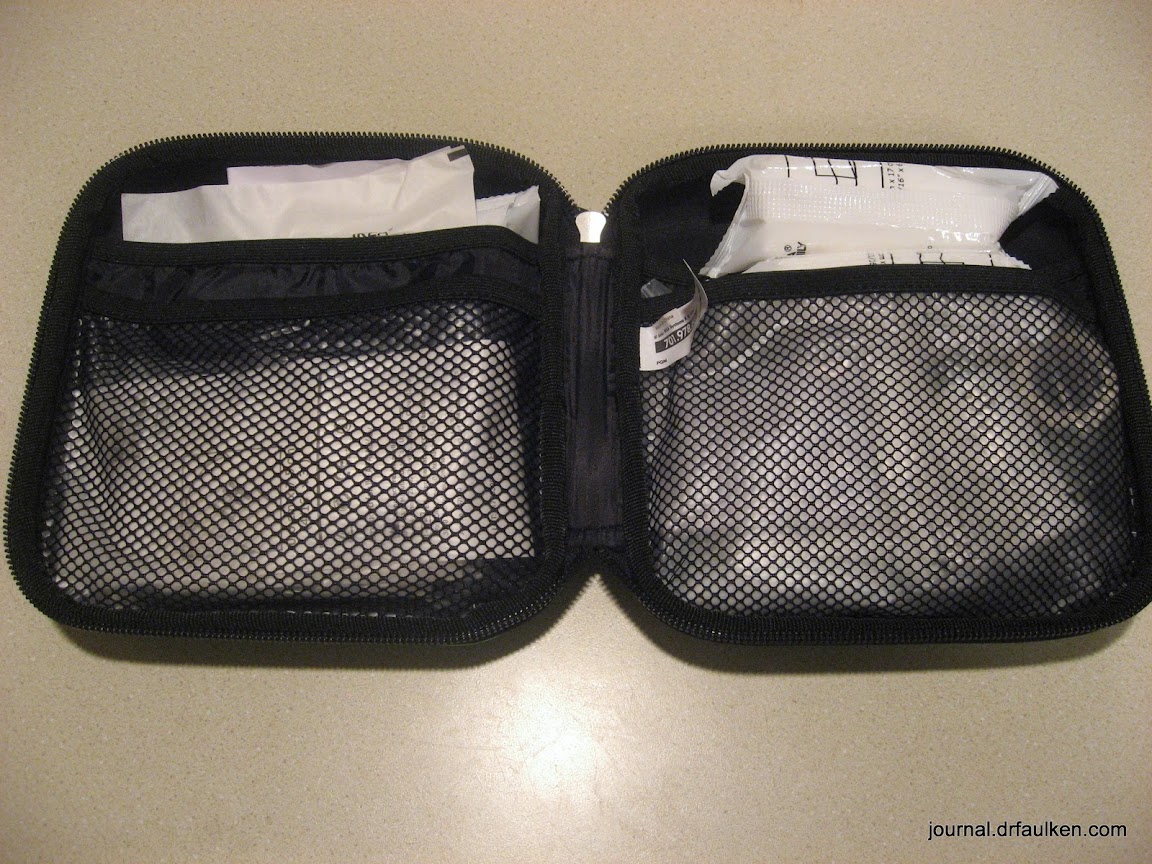 There are four pockets, two in each side of the clamshell. The elastic seems strong enough to hold everything into place.
Contents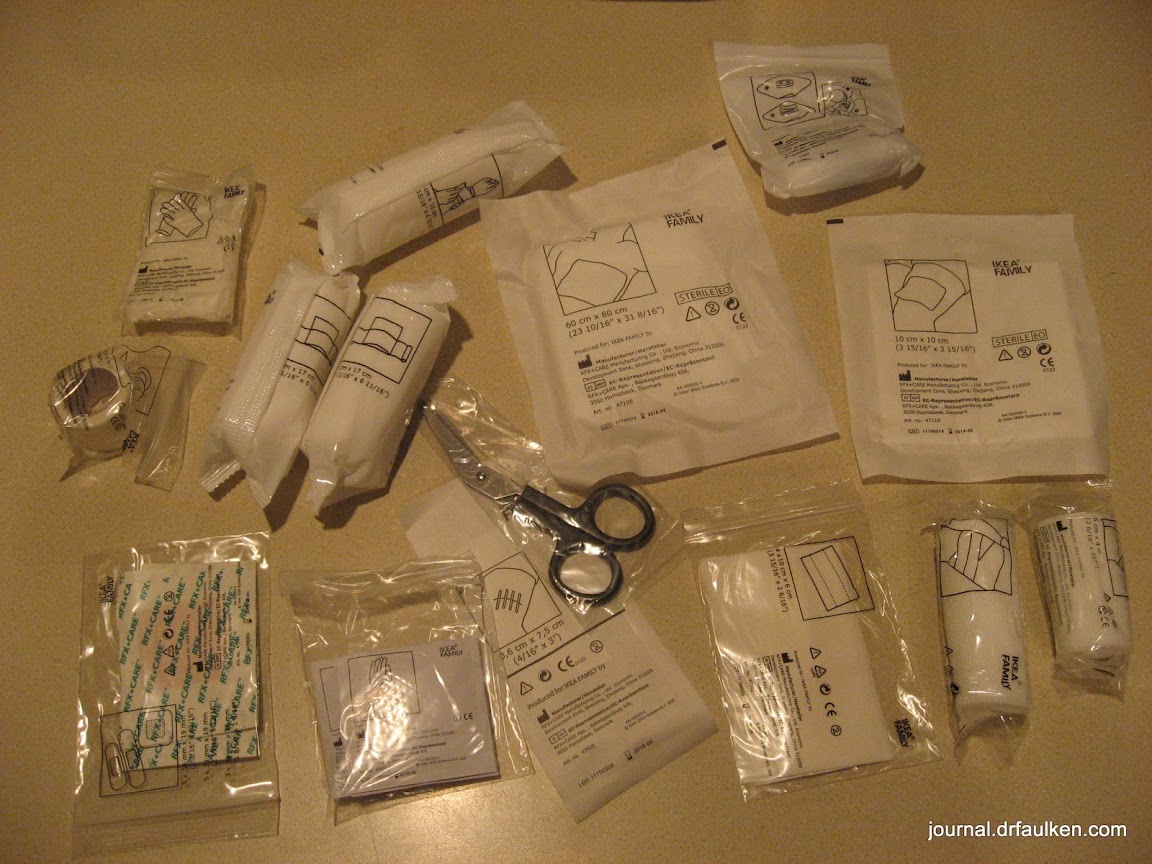 The IKEA first aid kit has more than the usual big box competitor. Here's a rundown. The supplies are all metric in size, so I rounded to the next readable US equivalent.
1x 23 5/8″ x 31 1/2″ burn dressing
1x 4″ x 4″ wound compress
1x 4″ x 6 5/16″ sterile wound dressing
2x 6 11/16″ x 6 11/16″ sterile wound dressings
1x 2 1/4″ x 13′ elastic bandage
1x 3 1/8″ x 13′ elastic bandage
1x latex gloves
1x 1″ x 16.3′ adhesive tape
1x respiratory sheet
5x 2 3/16″ x 12/16″ small "plaster" bandages (Band-AIDs)
5x 2 13/16″ x 12/16″ large "plaster" bandages (Band-AIDs)
3x 1 1/2″ x 1 1/2″ square "plaster" bandages (Band-AIDs)
3x "plaster" strips (they're like adhesive sutures
4x 4″ x 2 3/8″ adhesive sheets
1x medical scissors
5x wash swabs
That's a pretty decent kit, especially since most competitors will be heavy on the Band-AID side of things and less on the wound dressings. The medical shears are a nice touch, and saves me from having to buy several sets for the house, cars, and personal carry.
Each item is either individually wrapped or comes in a resealable pouch (or both). This keeps everything neat and clean. I will need to revisit how I organize the kit later so I can find things more efficiently, but the larger items are in the back, smaller items in the front.
My old PTK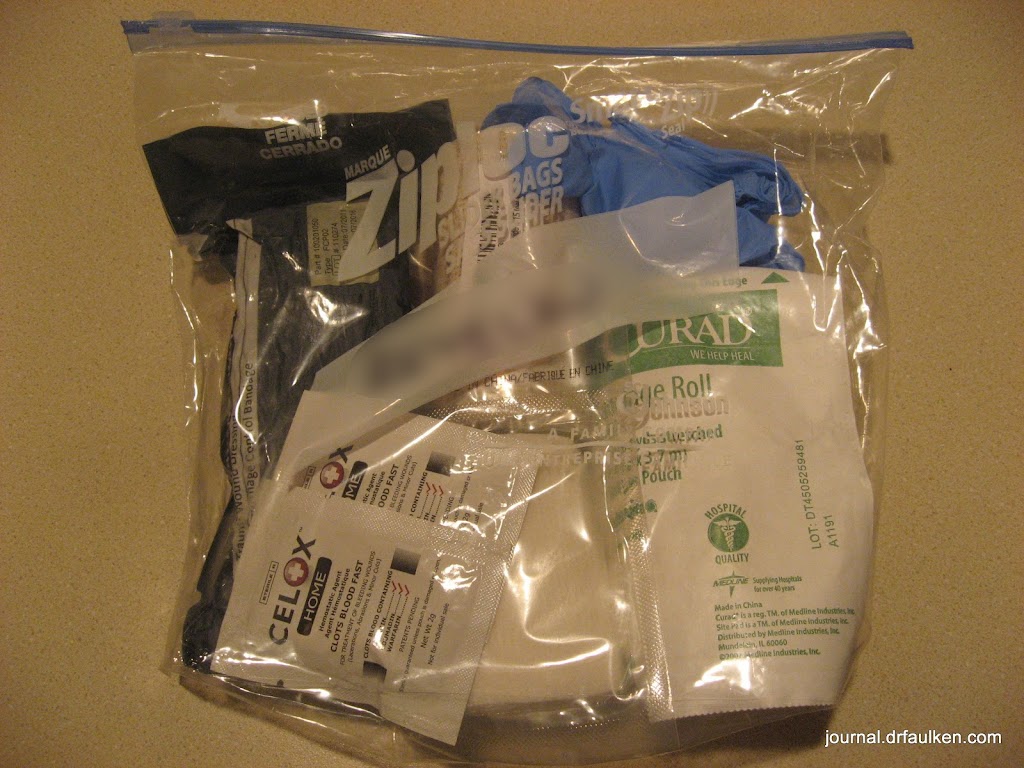 Yes, that's a Ziploc bag. Not "scary" tactical, but it was kind of weird looking just sitting in my messenger bag. Here were the contents:
1x Israeli bandage
2x nitrile gloves
3x 2g packets of Celox coagulant
1x 4.5″ x 12′ medical bandage roll
1x 4″ x 15′ cotton elastic bandage
1x 3″ x 7.5′ rolled Kling gauze wound dressing
Decisions, decisions
I knew that I would have to compromise and make room to combine both my kits into the IKEA bag. I already have a "boo-boo" kit made up at work, in my car, and at home. I decided to remove a lot of the Band-AIDs from the IKEA kit. My nitrile gloves are better than the latex ones that came with the kit, so the latex gloves didn't make the cut. Many emergency medicine schools of thought are moving away from mouth-to-mouth resuscitation (doing compression only), so out went the respiratory sheet. The swabs didn't make it, either.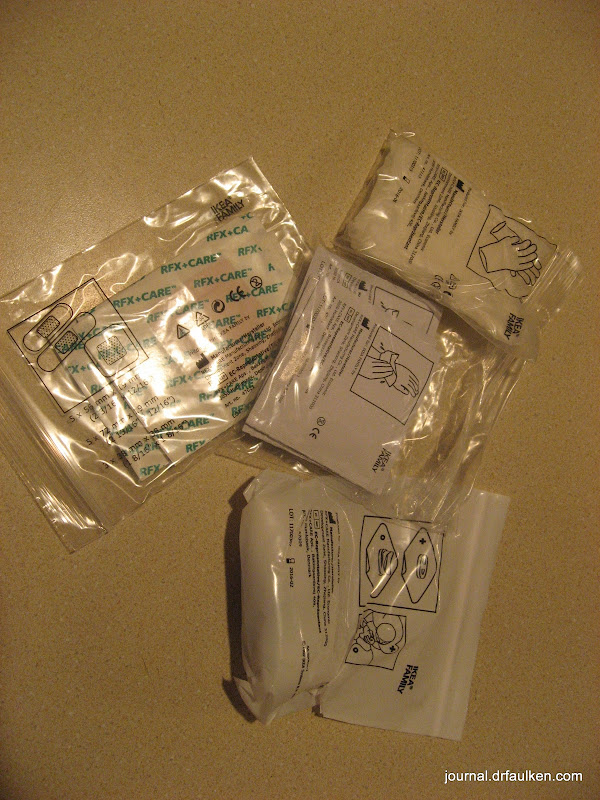 The weakest links. Goodbye.
Suck your stomach in
It was still a tough fit. I packed the larger, wider diameter items in the back pockets of the kit. I tried my best to balance the thicker items on one half so that I could close the clamshell more easily. I don't like that the nitrile gloves are so close to the zipper — it seems like an easy way for them to get caught in the zipper — but I also wanted them as close to the top and as readily available as possible.
It was a tight fit, but I made it happen.
Conclusion
For $10 – $12, the IKEA Family First Aid Kit is a much better starting point than typical kits of even two or three times the price. It is inexpensive enough for you to buy several of them (I bought four), and you will still save money when rounding out these kits with other items.
The case is handy and innocuous, this may or may not be a big deal to you. It's sometimes easier to explain to co-workers that you have a first aid kit in a bright green snuggly bag instead of a "personal trauma kit" in a tactical camouflaged pouch.
Everyone should have at least one personal trauma kit in the house. You never know when you or someone in your house will need wound care — my dog Pearl cracked her toe nail in October and was bleeding constantly and profusely until I took care of it with items from my trauma kit.
If you are outdoors a lot and venture far from emergency services, a simple kit like this one might make the difference in a moderate emergency. My father, who is a deputy sheriff and search and rescue responder in Colorado, has to help hikers and bikers who get injured out in the woods.
Lastly, several of my friends work as landscapers, mechanics, construction workers, carpenters, roofers, or other jobs that involve dangerous tools. Please make sure you have a bag that has something more than just some Band-AIDs and aspirin around. I plan on adding a tourniquet to this kit to stave off more serious lacerations, and that's something you may want to think about, too.
Remember: preparedness isn't just about surviving the zombie apocalypse. 🙂
Strongly Recommended.